Will Our Pensions Be Safe in an independent Scotland?
The UK has the worst state pension provision in Europe. One of the driving forces behind the independence campaign is to improve the Scottish state pension to at least the EU average.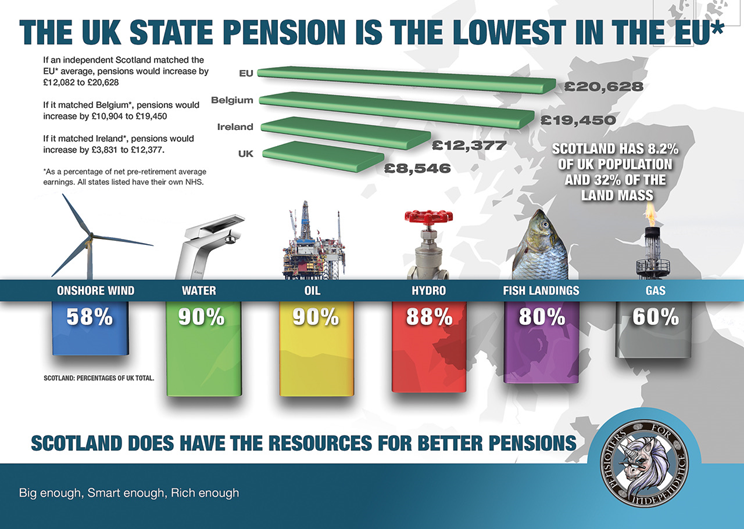 Pensions in an Independent Scotland is an important topic. And it's important that we think through the implications for our pensions well before Scottish Independence Day. If we don't, there may not be an independence day. Because Scots of pension age are still be convinced about the benefits of leaving the UK.
Last year, 2021, Yes Kirkintilloch, Lenzie & the Villages asked a panel of experts to talk about and answer questions about state pensions, and about work-place & about private pensions. Ken MacNeil, himself a financial advisor, chaired the meeting.
And the panel were:
Gordon MacIntyre-Kemp, of Believe in Scotland
Bill Johnson, of Scottish Seniors Alliance
Jim Walker, Chief Economist with Aletheia Capital
Craig Dalzell, of Commonweal
The four members of the panel didn't agree with each other all the time. And that made the discussion all the more interesting.
Then the questions came thick and fast:
If a Scottish currency appreciated/depreciated against sterling, would that affect the value of private pensions?
How will we deal with discrepancies of that sort?
Unionists claim that doubling Scottish pension is not affordable. How will we paid for it?
WASPI women have missed out on a lot of pension. So should pension age be reduced for women in an iScotland?
Unionists point to the State Pension being paid from NI contributions. And what is best way to reply to that?
How will Brexit impact on Scottish pensions, if at all?
Do we have any examples of how other recently independent counties have handled pensions?
Would UK have to transfer money to Scotland to cover contributions already paid?
Would UK Dept of Pensions continue to pay after indy?
What different pensions policies should an independent Scotland have, as opposed to what we have in Westminster pension policy now?
We are grateful to Yes Kirkintilloch, Lenzie and the Villages for sharing their excellent event.