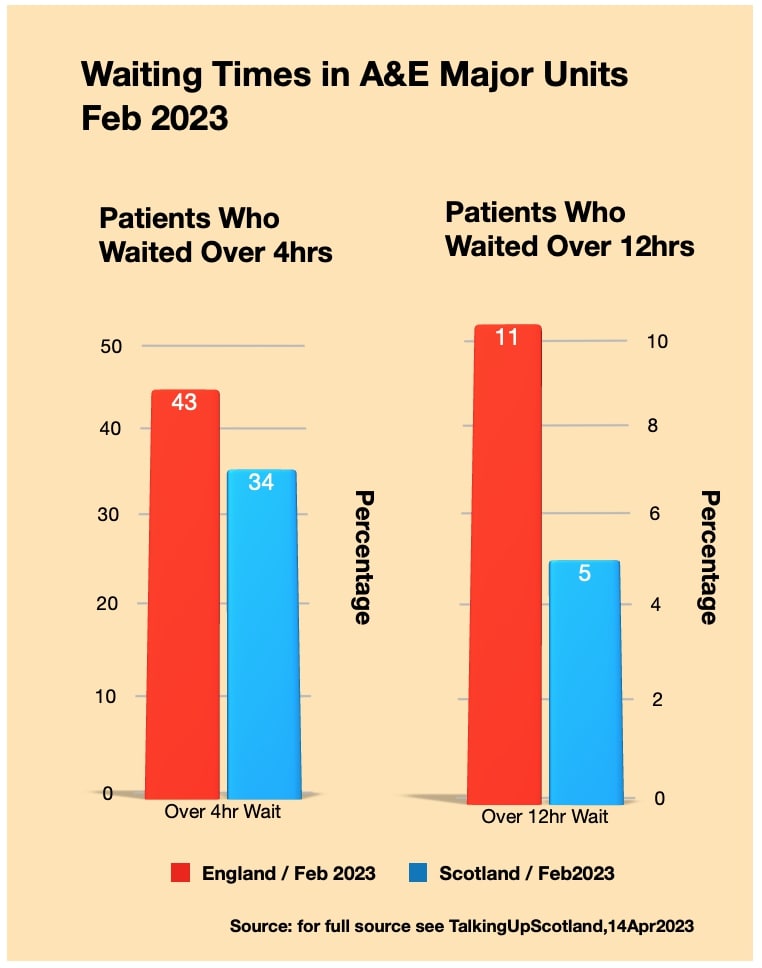 Here's the background to those figures and why we only now have them.
DTAs and TOAs
NHS England reports A&E Dept performance as DTA waiting times, ie the time a patient waits from the time the decision is made to admit them to when they transferred or discharged. This ignores the time they've been sitting in A&E waiting for that decision to be made.
In evidence to a House of Lords committee (on 19 January 2023), the prevailing practice of measuring 12-hour waits from the time of a 'decision to admit' (DTA) rather than from 'time of arrival' (TOA – as in Scotland) was described by Dr Adrian Boyle, President of the RCEM as "a fundamentally dishonest way of reporting data. It is hiding and doing our patients a disservice by minimising a very serious problem".
In Scotland we report TOA waiting times, ie from time of actual arrival in A&E to time of transfer or discharge. I mean that's what we all mean when we tell our friends that we spent 4 hours in A&E, isn't it? It's what I mean when I say I was in and out of the Small Injuries Unit in an hour which included getting x-rayed and a splint put on. A DTA measure of that is 40mins cos the 20 mins I waited before being seen isn't counted in a DTA.
So now more honest reporting is possible…
After a long-running campaign by the Royal College of Emergency Medicine (RCEM), NHS England has altered the way it reports monthly performance data on long waits by patients attending its major (Type 1) A&E departments.
NHS England has relented and published the first set of monthly data (for February 2023) on 12 hour waits measured from time of arrival at A&E to admission, transfer or discharge. This addresses an anomaly consistently ignored by the corporate media and the BBC when reporting negatively on NHS Scotland.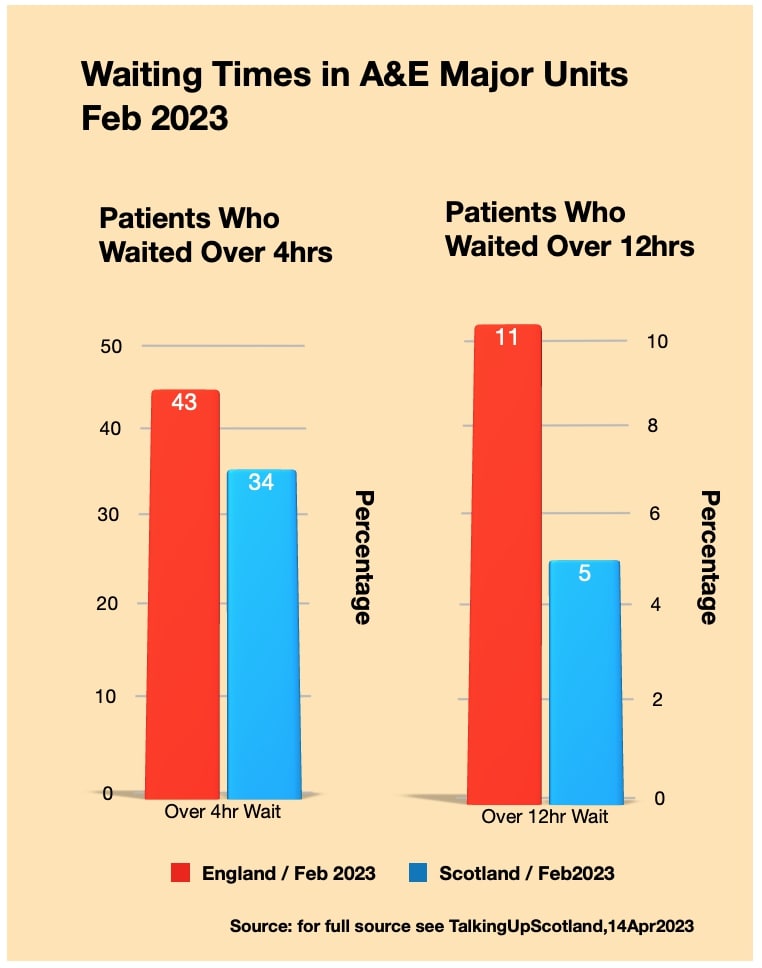 Other discrepancies are available and still being reported….
In our February blog "A&E Stats- Shock Horror " we looked into the way NHS emergency waiting times get collated and reported by NHS England and then re-reported by UK media. The main point to take on board is that all Scottish A&E Depts are Major Units. Whereas in England Major A&E units are called Type 1 Depts and – as you're no doubts expecting to hear – there are other A&E Depts Types in England, Types 2 and 3 which deal with small injuries, etc. So when I fell of the back of a treadmill and broke my wrist I didn't need a major trauma centre, I just needed a small injuries unit.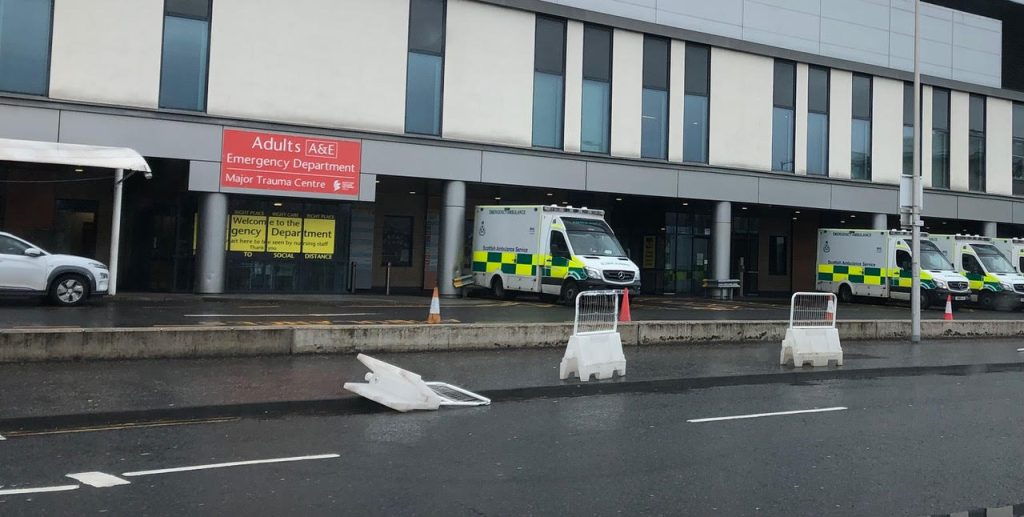 If you look closely at that photo taken at Glasgow's QEUH you'll see the red "Major Trauma Centre" sign. The UK media, BBC in particular, consistently ignore these distinctions, and use waiting times averaged over all A&E Depts in England no matter the Type. The result is that NHS England A&E waiting times are made to look much better than they actually are. Because of course waiting times in small units are much shorter than in major units. And of course it does NHS England a massive favour when comparing A&E performances compared to other UK Nations.
Only this week, BBC Radio 4 news coverage of the latest A&E waiting time statistics for NHS England persists in reporting the four hour performance metric for all Types of A&E department, currently c. 71%, compared to the much poorer four hour performance metric for just the major, Type 1, departments in England, currently c. 56%.
(With thanks to TalkingUp Scotland for collating all these figures and where you will find detailed source information for the figures used in this post.)