We were going to call this post New Kids on the Podcasting Block, but then remembered that we've been podcasting for over two years. But …. as of the beginning of 2022 we have transformed how we create our content. We have this very lovely new website. And we want to tell you all about it!
We're the IndyLive Podcasters: Fiona, Steve & Marlene!
Where We Started…
Our podcasts started with a couple of us editing interviews we'd done for the IndyLive Radio Daytime Show. We'd upload them to Podbean as way of enabling more people to hear them. When we started up new radio series – like Clacks Wifis, Yes Group Spotlight, Changing Minds – we included all that material on our Podbean channel too. We bet that some of you reading this featured in some of those interviews and discussion!

At the time IndyLive Radio, our Podbean channel, and IndyLiveStream were all part of IndependenceLive Media (ILM). It's a right shame that the radio station never managed to build up its listener base. It is now going its own way and is no longer part of ILM.
But we know that increasing numbers of you are listening to our podcasts – our stats show over 200,000 downloads / listens over the past year. OK, we know not all of you listen to the very end!
One in six adults in Scotland listen to a podcast each week. For many people, news & current affairs TV programmes are no longer their go-to source for information. Instead they search online to find podcasts or YouTube videos that give them the background info they're after.
Which Gets Us Neatly To…..
…..Where We're Headed
We've stopped thinking of ourselves as radio presenters who happen to offer our programmes as podcasts. Instead we're going full steam ahead to grow Scottish Independence Podcasts – or IndyLivePod for short – as a new arm of IndependenceLive Media.
Our podcasts are available not only on Podbean but also through Spotify, Apple, Google, Amazon … wherever you listen to your podcasts. We are aiming to catch more of the podcast audience in Scotland and give them quality information about the benefits of Scotland becoming independent.

We have a network of contacts with independence activists around Scotland. Now we are offering them a new and better place to showcase their meetings and discussions.
We'll choose themes on subjects that need to be explained and developed to persuade more people move from Mibbes to Yes. All that will be available to Yes Movement for IndyRef2.
We've set up the website so that it's easy to browse through topics that you're interested in. Just use 'Browse Our Categories' from the top menu. We're adding to it all the time!
What we'd like you to do….
Well you're reading this and that's a good start!
Now tell your pals about us. And make sure they sign up to our Podcast Newsletter 😀.
We'll soon be setting up a survey asking what topics you think we need to be podcasting about. Just haven't had time to set the survey up yet! But it's coming. And if you're signed up to the Podcast Newsletter, we'll let you know when & where to fill in our survey.
If you can't wait till then because you have a brilliant idea for a podcast, that's fantastic! Get in touch with us now. It could be someone you'd like us to invite on a show. Or it could be a theme for a series of podcasts. You'll find our contact form in our About Us Page.
What Next ?
That's easy – have a browse round our podcasts. Go on, go on…! Some of the posts feature discussions from Yes Groups. Some from current affairs sources. Some are podcasts series we produce ourselves.
Just click on the image and you'll find them all 👇

Our new video shows…
Pre-2020, guests on our radio programmes were invited come into an actual rented studio. The pandemic changed all that. But while bricks and mortar studios closed, online studios thrived. Now pretty well everyone and their granny and grandad know how to make zoom calls. Kevin Gibney, the founder of IndependenceLive, now subscribes us to Streamyard. It's like zoom but better. And it's ideal for the kinds of interviews that we're doing.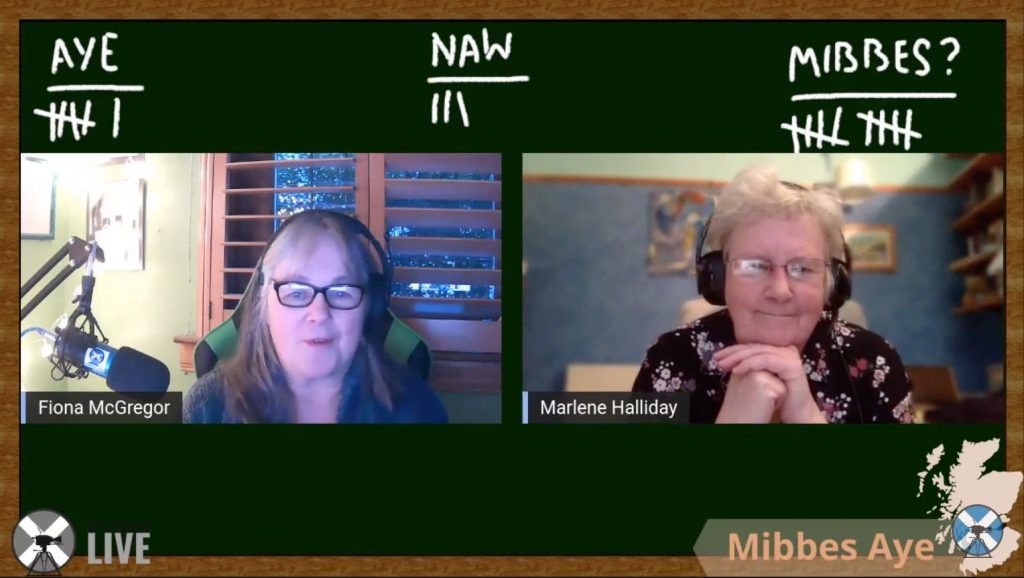 We have started two new video shows which are broadcast on IndependentLive YouTube channel before being edited into an audio podcast version. We have a new podcast series called Bits & Pieces. Our IndyLive Extras YouTube channel has clips and interviews that provide more information about the themes we've featured elsewhere. Click on the images to find our more 👇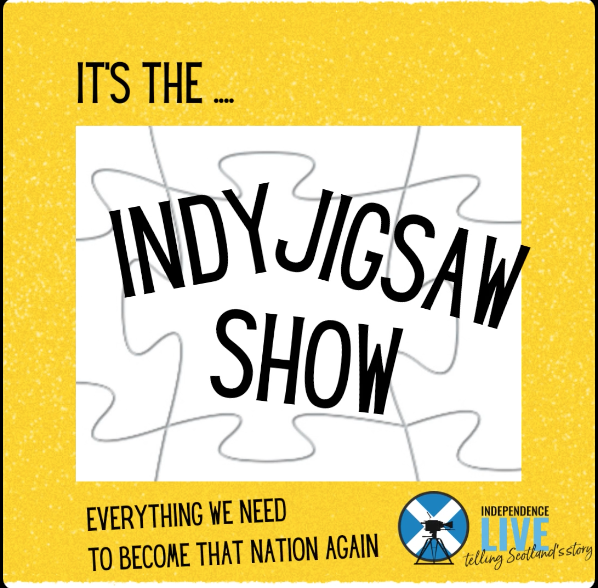 A Look Back at IndyLive Radio.
All of our podcaster team have fond memories the time we spent making programmes for IndyLive Radio. We have written more about our attempts to build up IndyLive Radio, what did and didn't work, why we left, and where that station is going now. Click on the image to read more.