Indy Jigsaw Show: Welcome to Scotland?
Our Indy Jigsaw Show goes out at 11am on the first Friday of the month. This month that happened to be April the 1st. But "Welcome to Scotland?" was definitely no April Fools joke. We covered highlights from the Stand Up to Racism march in Glasgow. Then Elena Whitham MSP told us about Holyrood's recent refusal to give legislative consent to the Westminster UK Borders Bill. But are Scots really as welcoming as we think we are? Find out the answer in our Indy Jigsaw podcast – or watch the video version on Independence Live's Youtube channel.
On location: Arbroath
On the day that ScotRail was nationalised, Marlene and I jumped on the train and headed for Arbroath to take part in the All Under One Banner march the next day. We took the opportunity to explore the Abbey, had a delicious meal at the harbour and we did some filming too. Read more about it and watch the vlog in our Arbroath Adventures blogpost. It's also on our Indylive Extra Youtube Channel.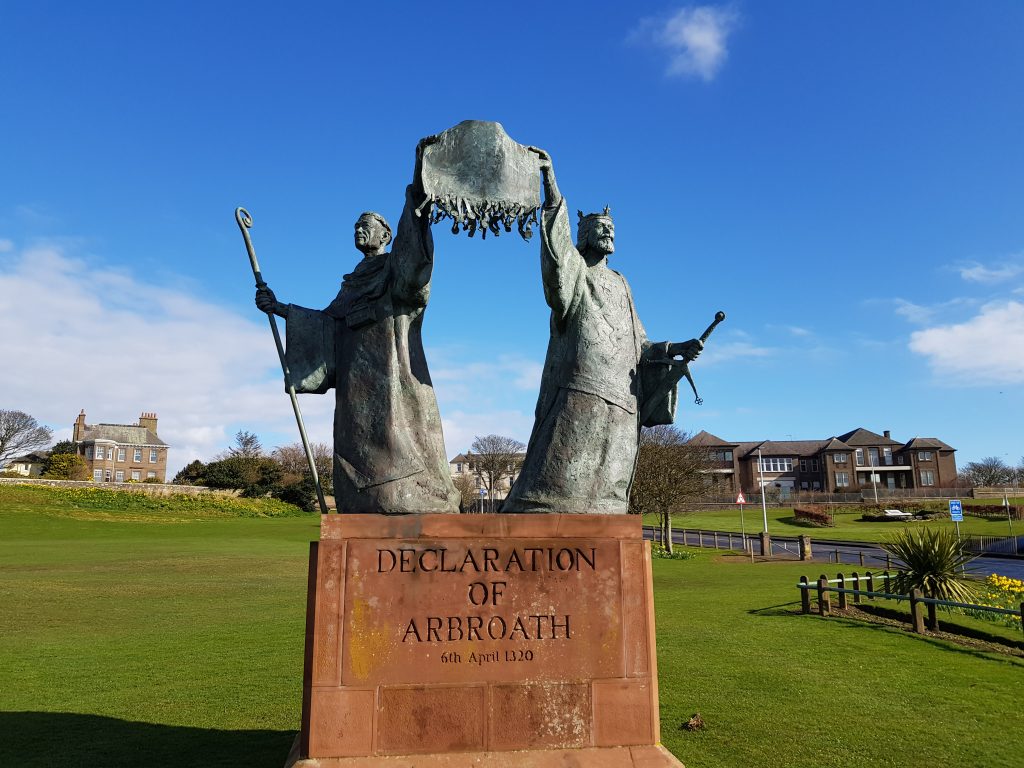 Radical Scottish History
Our visit to historic Arbroath left us in the mood for even more Scottish history. Luckily, we have been re-running our very popular Radical Scottish History series from Stuart McHardy. Each episode is only 10 minutes long. They're a great starting off place to discover all the Scottish history you weren't taught at school. You'll find the complete list here: Radical Scottish History Podcasts
Nordic Horizons
The first of our April guest podcasts came from Lesley Riddoch's Nordic Horizons panel discussions. This month the topic was the war in Ukraine and whether the Nordic countries had changed their attitudes towards the Russian challenge and to NATO as a result. It was a fascinating discussion which you can listen to here:
Rising Clyde
Our second guest podcast this month came from a brand new Independence Live Youtube show hosted by Iain Bruce. Rising Clyde looks at climate justice. Episode 1 follows on from the Glasgow COP26 and asks What Now for Scotland. Listen here:
Who Owns Scotland's Ports?
Our series Mibbes Aye aims to provide useful information about key items of interest to people who are still making their minds up about independence. This month we dropped in on a zoom call hosted by Pensioners for Indy. The guest speaker was Alf Baird, a retired marine economist. Alf's explanation of who owns Scotland's Ports was fascinating – and infuriating!! Don't miss this episode and prepare to be enraged. You can also read more about this topic in our blogpost on the topic.
The Nation Talks to Alyn Smith MP
Our third guest podcast of the month was an episode of the TNT Show. Host John Drummond spent an hour grilling Alyn Smith on topics such as EFTA vs EU membership, section 30 orders and the upcoming council elections.
Out and about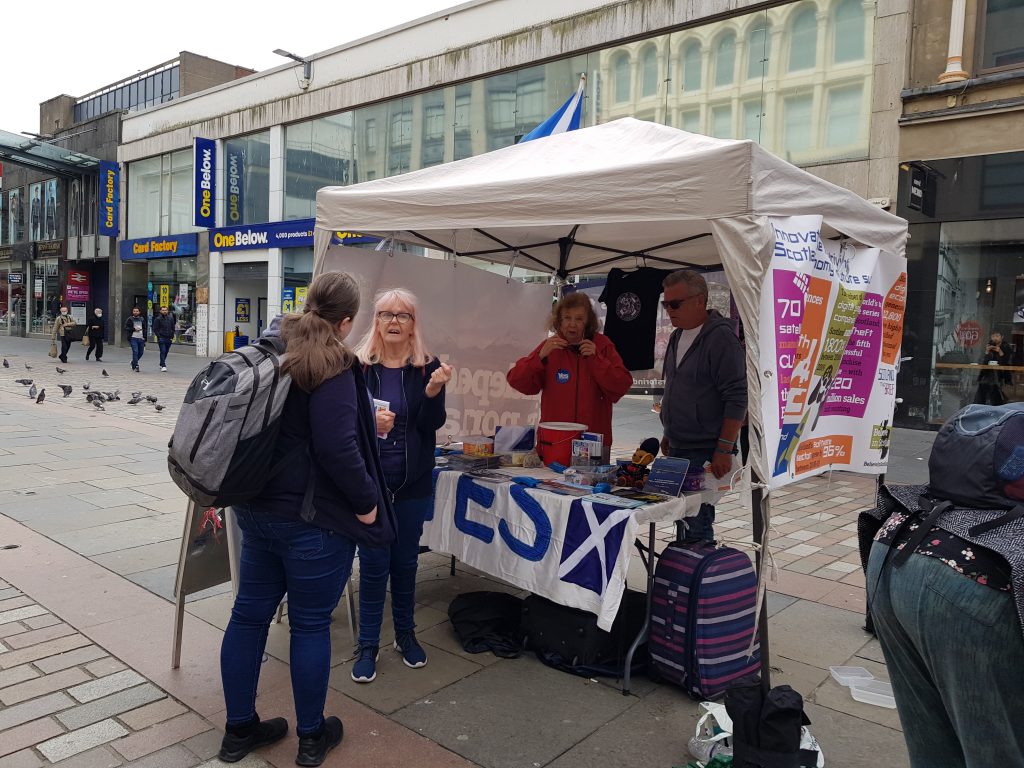 Marlene and I took to the streets and visited two Pensioners for Indy stalls recording some vox pops for our next episode of the Indy Jigsaw Show. The topic will be a Creating a Constitution for Scotland and our special guest is Mike Russell. The show will air on the 6th May – and if you catch our Youtube prremiere at 11am that day, Marlene and I will be in the Independence Live Youtube comments section. You're very welcome to drop in for a chat!
Bits & Pieces Podcast
With so much happening this month at home and abroad, the main decision for the Bits & Pieces podcast was what to leave out! In the end we included sanctions for Ukraine, Johnson's lawbreaking in Partygate, the Scottish Constitution, Mary Lou McDonald talking about Brexit and Sinn Fein's chance to be the main party in NI, the cross party IndyX event in Dunfermline, the Home Secretary's vicious Rwanda plan and we finished on a positive note with the ladies from the Indy2 Cafe. Definitely not one to miss, you can listen here:
Colonial HQ
To round off a hectic month of travelling, recording, filming, editing and podcasting, Marlene and I popped over to Edinburgh to pay a visit to the Now Scotland demonstration outside of the UK Government HQ. We thoroughly enjoyed meeting up with members of Yes Berwickshire who kindly invited us to visit their weekly stall. We'll be in touch, Ladies!